Car Rent in the Airport and Outside. Which Option to Choose?
Today there is a huge number of car rental companies. Naturally, all of them them cannot be represented in the airports of your flight destinations. Rent of premises for office to provide cars and parking leasing in the territory of an airport is significantly more expensive than a separate post in the city where one can find a car. This particular reason explains the existence of an "airport fee" that is mandatory for a client wishing to rent a car in the airport. Upon booking please pay attention to the fact that such airport fee can be either included into the rent amount or be invoiced separately. An airport fee amount usually does not exceed 20-45 euros with few exceptions.
Well, you've chosen a car, the rent price is OK, you're comfortable with a list of additional services, a fuel policy, mileage terms, etc. The only tiny disturbing detail is that the chosen car rental office is outside the airport. Let us explain the process of providing the car you've chosen outside the airport territory via the company BookingCar.
After safe landing in the destination airport, being happy with a comfortable and nice flight, you say goodbye to a crew, then get your luggage without any delay, and walk out to the airport arrival area where all welcomers have gathered. In case the chosen car rental office is located in the airport, just follow directly internal airport navigation signs showing the places of location of car rental offices in the airport territory.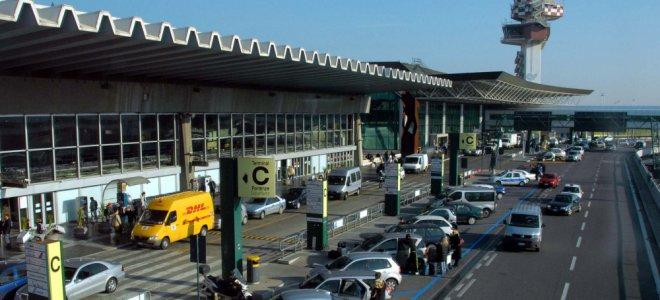 Otherwise, when you come in the arrival area where all welcomers are staying, you'll see (as a rule, in some separate place specified in your voucher) a young man (or may be, a middle-aged man, it doesn't matter) or a young girl with a plate having the name of the car rental company you chose and its logo on it. This employee will greet you and show you the way to a minibus that will keep you to the office of the car rental company. It won't take you more than 5-7 minutes as generally, such offices are situated only 2-5 km apart from the airport. The employees will meet you at the parking and help to get out your luggage from the car, and after that they walk you to the office to complete all necessary documents. Oftentimes, the process of the car return includes the same actions done in the opposite order, but there can be exceptions. You'll be necessarily explained the procedure of a car return. Sometimes you can return a car not only to the point where you've previously received it, but to the airport as well; in the latter case you'll just need to follow the airport navigation signs directing you to the area of a rental car return. If it is necessary to return the car to the same place where you've previously got it, you'll be taken to the airport by a minibus directly to a departure area.
There are some more peculiarities that you can learn only from your good mates or friends (we'd like to become such friends for you). If you're arriving at a relatively small airport (according to modern standards), it won't be difficult to find a car rental office located in the airport, and you won't need to pull a trolley with your luggage far off, while the parking with rental cars will be located close to the airport building. In this case it'll be more reasonable for you to address to car rental companies situated in the airport. But be careful: pay attention to prices as rental prices offered by outside companies can be significantly lower comparing to those situated in the airport. In case you're arriving at a large modern airport that can be compared with a town in terms of its size, be ready for quite a long walk with a trolley loaded with luggage (of course, there can be exceptions). The office of the chosen rental company can be located even at the other terminal where you need to go by different transport means, and, very likely, you'll need to get to the other floor or to the other terminal part; terminals often can be more than 1 km long.
There is one more thing you should know: Upon arriving at such an airport, be aware of the fact that several aircrafts are landing at one and the same time, and staying in a queue to rent a car can take you more than an hour. However, if you chose the rental company that meets you in the airport, you'll be able to get straight to the office in 5-7 minutes by a comfortable bus without a necessity to walk somewhere with your luggage.
Therefore, the key idea of this text is to choose the car rental company offering services you like most regardless of its location. If you manage to book a car via BookingCar, we'll organize everything else, and during your business trip or vacancies you'll feel comfortable and safe driving a car rented via our company.
Dear friends, should you have any questions (not necessarily concerning the topic), send them to the e-mail, we'll answer all the messages and try to do our best to help and consult you.
Like this? Share in social networks: