Best car rental prices in Vietnam
Standard
suitable for traveling in the company of 4-5 people
Luxury
suitable for traveling in the huge company
Van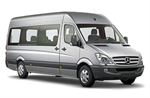 Jeep
Special
$
213.99
price for 3 days
$
246.91
price for 3 days
$
230.45
price for 3 days
$
246.91
price for 3 days
$
246.91
price for 3 days
$
213.99
price for 3 days
$
246.91
price for 3 days
$
230.45
price for 3 days
$
246.91
price for 3 days
$
246.91
price for 3 days
$
217.37
price for 3 days
$
251.93
price for 3 days
$
234.10
price for 3 days
$
251.93
price for 3 days
$
251.93
price for 3 days
Explore Vietnam in a hire car
Impressive to look at, Vietnam attracts thousands of tourists every year. On a rental car, go on a journey through the cities: Da Nang, Hanoi, Ho Chi Minh City, Hue, Nha Trang. You can make a reservation under the most favorable conditions (including choosing a pick-up point) on Bookingcar-USA.com. Vietnam is a country with developed infrastructure, so there are hotels and guest houses for every taste and budget.
Reviews
Liked the car that gave Bookingcar us in Da Nang
Stephanie V.

, February 24 2019
Everything is super, not counting the fact that the tank was not full when issued. This fact asked to fix, so that later to me no complaints. In this regard, Bookingcar like. And the prices are normal, and the choice of cars. For example, on her last trip to Da Nang, a decent car could only be picked up on this site.
Inessa Filatova

, October 31 2018